Okay, I have written a few posts on HDFC Bank Credit Cards already, however, I do get a common question asked by lots of people, 'What is the best way to apply for an HDFC Credit Card?'
You can easily apply for an HDFC Credit Card if you are doing a job or running a business using their credit cards portal, however, chances are, you might get very low limits, compared to what they offer in their 'pre-approved' credit cards.
In today's post, I will give the 'Step-by-Step' procedure to get a pre-approved and lifetime free HDFC Credit Card. Since it will be pre-approved, you won't need to submit any income proof documents. It will be issued based on your prior relationship with HDFC Bank.
Overview:
Here are the steps that you need to follow at any given time:
Open a Savings Account on HDFC Bank.
Wait for Pre-approved Credit Card Offer.
Apply for HDFC Credit Card.
Know about your Lifetime Free Offer.
Confirm the Lifetime Free Criteria from HDFC Bank Support.
Step 1: Open an HDFC Savings Account:
I have already written a detailed post on the Types of HDFC Savings Accounts that you can open. Check that post.
My recommendation: If you can afford it, try to go for the HDFC Classic Account (1 Lakh MAB). If you cannot afford it, at least go for Savings Max Account (25k MAB), as you won't need to pay any charges for Debit Card and other facilities.
Step 2: Wait for Pre-approved Credit Card Offer:
This may take 3-5 months depending on how you use your account. If you are a heavy spender, you might get it within 2 months also.
The pre-approved Credit Card offer may arrive on your Email, and on your Netbanking Account 'Offers' tab. I am giving some examples of how a 'Pre-approved' Card offer will come.
If you find any similar banners, go ahead and 'Apply'.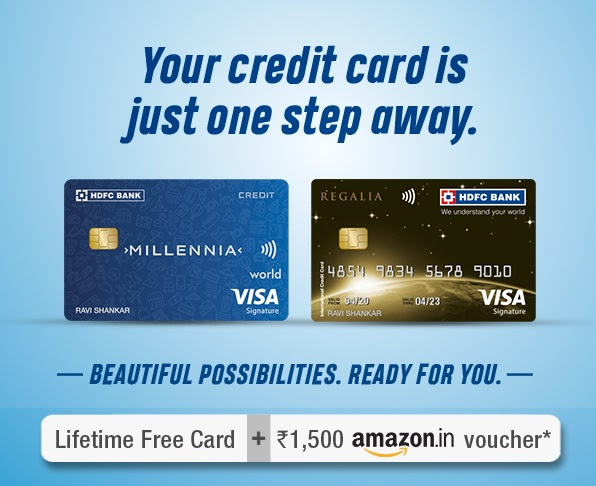 If you don't get pre-approved offers even after 3 months, do not get disappointed. Some people get it early, some get it late. You should wait patiently. Remember, 'Credit Card' is a long-term game. You should not hurry in this.
If you don't get any pre-approved offer even after 6 months of opening your Savings Account, please contact your Bank RM to check if you have any offer. Sometimes they can help you get one.
Banners that are NOT PREAPPROVED:
This is just a basic banner displayed on Internet Banking if you do not own any credit cards.
Step 3: Apply for your Pre-approved HDFC Credit Card:
Once you get the pre-approved credit card banner, go ahead and apply. The best way is to 'Apply at one shot'. Don't randomly close browsers in between, or don't enter the credit card portal out of curiosity just to check for offers.
Remember, every time you log into the HDFC Credit Cards portal, it generates a new Application No. And all these application numbers go into the 'Pending' state. So, when you actually apply for one, you might get an email response saying you have a 'previous' application in progress.
To resolve this, you need to contact your HDFC Branch RM. They have the option to remove all pending credit card applications, and then assist you with a fresh application. They might also ask you to use their employee code. Use it, it will benefit both them and you.
In the application, you will be asked to enter your details, like salaried or self-employed, company details, designation, etc. Don't worry. These won't be verified. These are just for records. You won't need to submit any income proofs also, since it is a pre-approved offer for you.
Step 4: Know your Lifetime Free Offer:
The very first thing you should know is, YOU NEED NOT PAY JOINING FEES OR ANNUAL FEES for your HDFC Bank Credit Card. HDFC Bank ALWAYS offers Lifetime Free Credit Cards.
But yes, it comes with some conditions. You need to achieve some initial spending to convert your card to First Year Free and/or Lifetime Free.
From time to time, HDFC Bank keeps updating its Lifetime Free criteria. You should remain updated about it at the time of applying.
February 2022 - Present: HDFC Bank is sending an 'Unconditional LTF' offer to many customers. This means all you need to do is click on the link and apply for your Pre-approved Credit Card. You will get a Lifetime Free Credit Card without any spending criteria. Lucky you, if you manage to get it.
August 2021 - Present: HDFC Bank Credit Card Lifetime Free Criteria basis monthly spends. This remains active even if the 'Unconditional LTF' is not available for you.
January 2021 - Present: This post contains a lot of other methods for getting a Lifetime Free HDFC Credit Card if the newer methods get expired. It contains methods like 'Adding Smartpay Biller for 3 months' etc.
Step 5: Confirm your Lifetime Free Status from HDFC Bank Customer Support:
You can send an email to any one of the following addresses:
priorityredressal [dot] creditcards [at] hdfcbank [dot] com
grievance [dot] redressalcc [at] hdfcbank [dot] com
Mention your Name, Registered Mobile Number, and Last 4 Digits of your Credit Card account in your Email. You will get a response from their team within 2-3 days.
Important HDFC Bank Credit Card Information:
Thank you for reading. Don't forget to join our FinTalks Facebook Group & FinTalks Telegram Channel for regular updates on banking and finance.