This is an update for the new and existing users of HDFC Millennia Credit Card. This credit card was launched in October 2019, and it primarily targeted millennials with high online usage. It used to provide rewards and cashback against online transactions on e-commerce websites, recharges, bill payments, flight and railway bookings, gift vouchers, and even regular online and offline transactions.
After a successful run of 2 years, the HDFC Millennia Credit Card is undergoing a major change in its rewards and cashback scheme. It is going to start from 1st November 2021 onwards.
What's New?
In short, these are the changes:
No Minimum Transaction Limit for Getting Cashbacks.
Cashback Percentage and Maximum Cashback Amount Modified.
Milestone Rewards Forever.
2 Years Reward Points Validity.
HDFC Millennia Credit Card New Reward Points Scheme:
5% Cashback on Amazon, BookMyShow, Cult.fit, Flipkart, Myntra, SonyLIV, Swiggy, Tata Cliq, Uber, Zomato. Maximum Cashback under this per billing cycle: ₹1000.
1% Cashback on all Online and Offline Transactions, Wallet Loading, and Merchant EMIs. Maximum Cashback under this per billing cycle: ₹1000.
In addition to these, 5% Cashback from all SmartBuy Transactions.
No Minimum Transaction Limits.
No Cashback on Fuel Transactions.
Cashback Points are Valid for 2 Years.
Minimum Cashback Points Needed for Redemption: 500.
Earn ₹1000 Gift Voucher against every 1 Lakh spends per quarter. You can choose Gift Vouchers from Amazon/Flipkart and other merchants.
1% Fuel Surcharge Waiver on Transactions ranging from ₹400 to ₹5000. Maximum ₹250 per billing cycle.
8 Complimentary Domestic Lounge Access per year (2 per quarter).
Card Membership Fee: ₹1000 + GST. However, you can Make it Lifetime Free easily.
HDFC Millennia Rewards Scheme Pros and Cons:
It is a mixed bag, with mostly positive changes. I have listed the positives and negatives below:
Positives:
You don't need to visit your favorite merchants via Smartbuy Portal to avail the cashback benefits. You can directly visit the website/app and use your HDFC Credit Card. The number of preferred merchants has increased.
No minimum transaction limits anymore. Earlier you could only use it for transactions above ₹2000. Now you can use it for any amount of transaction.
The reward points are now valid for 2 years, which was earlier just 1 year. Also, earlier you needed to accrue 2500 points initially for redemption, thereafter 500 points. Now, you can start redeeming only with 500 points.
Earlier, the Milestone Rewards was only valid for the first year (4 quarters). Now, you can earn milestone rewards every quarter forever.
Negatives:
The 2.5% Rewards Scheme is gone! You will only earn 1% cashback against every online and offline transaction from now.
The maximum cashback (earlier) used to be ₹750 + ₹750 + ₹750 across each category. Now the maximum cashback is ₹1000 + ₹1000 only.
Old versus New Rewards Scheme Compared:
Here's a comparison of old vs new schemes side-by-side: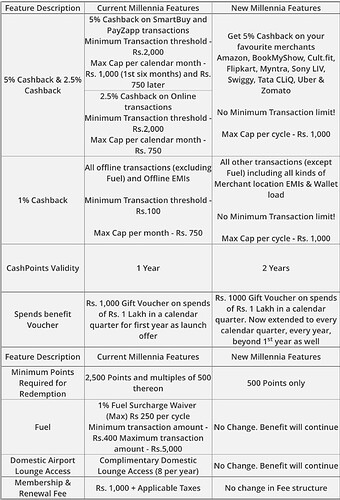 You can Follow this FinTalks Facebook Thread for more.
Thank you for reading. Don't forget to join our FinTalks Facebook Group & FinTalks Telegram Channel for regular updates on banking and finance.