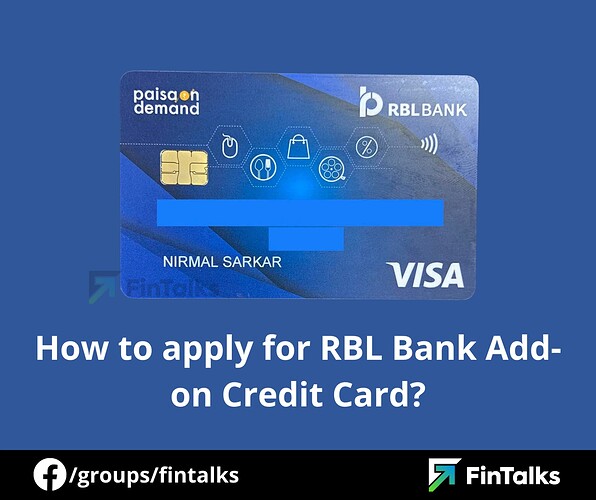 If you are using an RBL Bank Credit Card then good news for you! You can apply for Addon RBL Credit Cards for your Family Members with a shared limit. The best thing? No Paperwork. No form filling. Get your RBL Addon Card within 4-5 days!
What is Add-on Credit Card?
An Add-on Card is a secondary card provided to your direct family members. It is of the same variant as the primary card and shares the same features as the primary card. I have already written a detailed post on What is Addon Credit Card, what are its benefits. Check it out: Add-on Credit Cards Explained: Features, Benefits, How to Apply?
Things to Remember:
You can apply for a maximum of up to 5 add-on cards per primary RBL Credit Card.
The Addon Cards are issued as Lifetime Free. No charges involved.
The entire process is completely online. No paperwork is necessary.
How to Apply for RBL Bank Addon Credit Card?
Just send an email to cardservices [at] rblbank [dot] com requesting 'Addon Credit Card'.
Mention the following in your email:
Your Registered Mobile Number.
Your Primary RBL Credit Card Last 4 Digits.
Your RBL Credit Card Variant: VISA or Mastercard. (Since Mastercard is banned at the time of writing this post, you can only get Add-on Cards for VISA)
Addon Cardholder Name.
Addon Cardholder Date of Birth.
Addon Cardholder Relationship with Primary Cardholder.
Addon Cardholder PAN No.
Addon Cardholder Address. (even if same address as primary, mention it as per address proof)
Attach the following documents (self-attested by Addon Cardholder) with your email:
Addon Cardholder PAN Card (mandatory as ID Proof).
Addon Cardholder Aadhar Card (or any other accepted Address Proof).
Note: The KYC documents need to be self-attested by the Add-on Cardholder.
That's all. You will be getting your RBL Addon Credit Card within 10 working days.
Overall Process for Me:
The overall process for me was extremely fast!
22nd March, 12.45pm: I sent the email requesting Add-on Card.
22nd March, 1.20pm: I got an email from RBL Bank, asking me to confirm whether I have a Mastercard variant or VISA. (That's why I asked you guys to mention it in the first email itself for faster processing). I replied back within 2 minutes.
22nd March, 2.55pm: I got an email from RBL Bank that my Addon Card request is registered (got a reference number) and it will be processed within 10 working days.
23rd March, 6.30pm: I got an email, and SMS that my Addon Credit Card request is processed.
24th March: I checked on RBL Bank App, and the Addon Card got generated there.
25th March: I got SMS from RBL Bank that my Card is despatched via Delhivery. (Phew, I expected Bluedart)
26th March: Card Delivered. Yay!
Overall the process was extremely fast for me!
Thank you for reading. Don't forget to join our FinTalks Facebook Group & FinTalks Telegram Channel for regular updates on banking and finance.