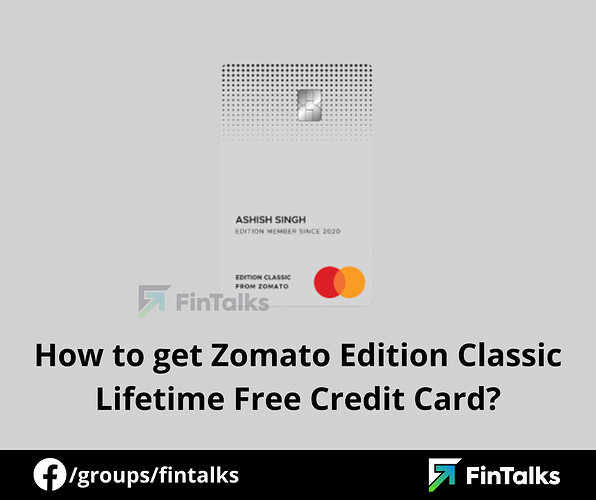 Good news! Zomato is extending Edition Classic Credit Card invite to many users and offering it as a Lifetime Free Card for a limited period. Follow this post to know how you can request the same.
Zomato Edition Classic Credit Card Features:
Lifetime Free VISA Card (Limited Period Offer)
Unlimited 5% Cashback On Zomato Orders & Dining
Unlimited 10% Cashback On All Spends (Not Only Zomato) on birthday date
6 Years Complimentary Zomato Pro Membership
Unlimited 1.5% Cashback on all Online Spends
Unlimited 1% Cashback On All remaining spends
Cashback Will be added as Zomato Credits. Only Usable to Order Anything in Zomato.
How to get Zomato Edition Classic Credit Card Invite?
This is an invite-based card. So you first need to request an invite. You can tweet to 'Edition Support' (@ editionbyzomato) requesting an invite. You Can Tag RBL Bank, RBL Bank Cares, Edition by RBL in your Tweet, and Request Invite.
You can also contact Zomato Support from inside Zomato App and request Invite. You will be getting it.
They will ask your Registered Mobile Number, and you will be getting the invite inside your Zomato App in 24 to 48 hrs.
For some users, the invite may come automatically as you order from Zomato frequently.
How to Apply for the Zomato Edition Classic Credit Card?
Note: This applies to only those who currently do not have any existing RBL Credit Card. If you already have an existing RBL Credit Card, check the next heading.
Once You get the Zomato Edition Credit Card Invite inside your Zomato App, Edit your Zomato Account Profile Name as per your Aadhaar Card. (Because nowhere it will ask later) for safety.

Update the following in your profile: Mobile Number, Name, Email, everything as per your Aadhar Card.

Save the Address of your Current location as Home. The card will be delivered here.

Important: Zomato App will take the location of your current address (where you are staying currently) for card delivery. Better try with big cities where RBL Bank Services are available. Else it may show as not eligible, etc.
For Example, I have a Village Address in my Govt Docs, also Zomato services are not available over there. But I am staying in a metro city where Zomato is available. However, I have no documents for the metro city. It is not a problem as long as your delivery location (current city address) is serviceable by RBL Bank.
Now start your application. It will automatically fetch Mobile Number From Zomato, Filled PAN, DOB, Married/Unmarried, etc.
Important: Minimum Age Required is 23.
After filling in all details, it will verify, and If you are eligible then only it will show limit else it will show as not eligible. (Don't worry, it won't impact your CIBIL, it is just a soft enquiry, not a hard enquiry)
Example: It Checked My Eligibility And Showed Me 1.21L Limit. And Then Asked For Father & Mother Name, Salaried, MNC or Govt, etc, Card Delivery Address.
Once you fill-up the details, you will be given 2 options for KYC: vKYC or Physical KYC. Choose vKYC for faster processing. You will be Redirected to RBL Page and complete your vKYC there. They will need your Aadhar based OTP verification.

In vKYC, the executive will take your live picture, PAN Card picture. They will ask you DOB, Current City & Pincode, State & Pincode as per Aadhaar.

Once you complete your vKYC, your card will be approved soon. It will be delivered to your address within 7 working days. (Usually, most people get within 2-3 days)
For Existing RBL CC users, How to get Zomato Edition Classic Credit Card?
Please note that RBL Bank allows only one credit card per user. Hence, if you already own an RBL Credit Card, and you apply for Zomato Edition Classic Credit Card, it will be declined instantly. So, if you want Zomato Edition Classic Credit Card, follow these steps.
At first, request for the Zomato Edition Classic Credit Card Invite as mentioned above.
Once you get the invite, Don't apply for it right away. Instead, contact RBL Bank Customer Support.
You can send them an email asking them to upgrade your Current RBL Credit Card to Zomato Edition Classic Credit Card.
If they agree, good. Go ahead!
In case they deny, or in case they agree but for a paid card (not lifetime free), then you have no other option but to close your existing RBL Credit Card, and then after you get the No Dues certificate from RBL Bank, you need to wait for 90 days. This is a cooldown period. Only after that you can freshly apply for RBL Zomato Credit Card from inside Zomato App.
There's no other way out, unfortunately. Good Luck!
This was posted by Luka Bethala on our FinTalks Facebook Group. I added a few more necessary information.
Thank you for reading. Don't forget to join our FinTalks Facebook Group & FinTalks Telegram Channel for regular updates on banking and finance.