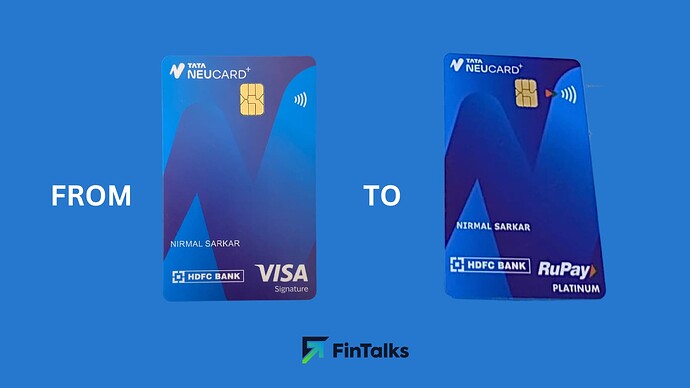 In case you have applied for the HDFC Tata Neu Credit Card and want to change your Card variant (VISA to Rupay or vice versa), then this is the ultimate guide you need to follow.
Many of you recently got HDFC Tata Neu Credit Card and took the VISA variant. But now BHIM UPI supports Rupay Credit Cards for Merchant UPI transactions. Hence you may want to convert your HDFC Tata Neu Credit Card to Rupay variant.
This is a completely safe and verified method. I myself tried to convert from VISA to Rupay and received my Tata Neu HDFC Credit Card Rupay variant within 5 days.
If you are in similar situation and want to convert your HDFC Tata Neu Credit Card from VISA to Rupay then don't worry. Here is how you need to do it.
Things to Note:
This method is ONLY for HDFC Tata Neu Credit Card. It won't work for other HDFC Bank regular/co-branded Credit Cards.
We are contacting HDFC Tata Neu Support team and asking them for card conversion. They are doing it easily on call. But HDFC's own customer support is not doing it so easily. Hence don't contact HDFC Bank support. Only contact HDFC Tata Neu support from the Tata Neu App (or check below).
Steps to Change your HDFC Tata Neu Credit Card Variant:
Call HDFC Tata Neu Credit Card Helpline (Toll Free): 1800 258 282 638. If you have doubts about this number, you can always check Tata Neu App for helpline number.
You will be asked to choose your language. Once you select it, it will directly redirect you to the phonebanking officer.
Tell them that you want to change your Card variant. Either from VISA to Rupay or Rupay to VISA.
They will verify your Name, DOB, and Delivery Address. Confirm the same.
They will take your request and generate a request ID. Note it down for any further communications.
If you called on Day 1 afternoon, on Day 3 morning, check your HDFC Bank App, it will show your newly generated card.
You will get SMS and Email about Card dispatch on Day 3 or Day 4. You can start tracking your Card delivery.
Thank you for reading. Don't forget to join our FinTalks Facebook Group & FinTalks Telegram Channel for regular updates on banking and finance.