West Bengal Govt. has launched the student credit card scheme on 1st July 2021. It will allow every student to take up to a 10L education loan at a mere 4% simple interest rate, which can be repaid back over 15 years. It has a fully online application process.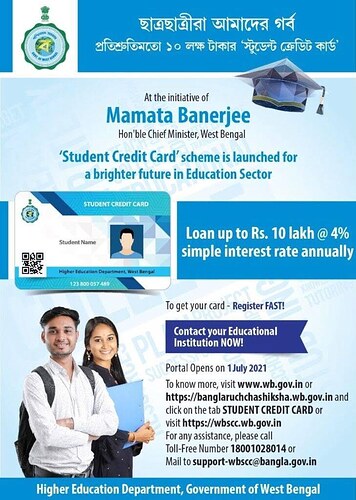 West Bengal Student Credit Card Details:
First things first, this is not a traditional credit card, but an upfront loan, which will attract interest.
This scheme is available for any student who has resided in West Bengal for the past 10 years.
Anyone who has passed the Secondary Examination is eligible to apply. The upper limit for application is 40 years.
The student credit card will grant a loan amount of 40L, that can be used against educational expenses like paying school/college fees, higher study needs, etc.
The interest rate is 4% SIMPLE INTEREST. The interest will not be compounded. This is a relief for the students.
The loan can be repaid back in 15 years.
If anyone starts paying back their loan from the beginning onwards, they will get a 1% rebate, so for them, the interest rate will be 3% simple interest only.
How to Apply for West Bengal Student Credit Card:
The eligibility criteria, how to apply, and all other details are available in this post.
Thank you for reading. Don't forget to join our FinTalks Facebook Group & FinTalks Telegram Channel for regular updates on banking and finance.