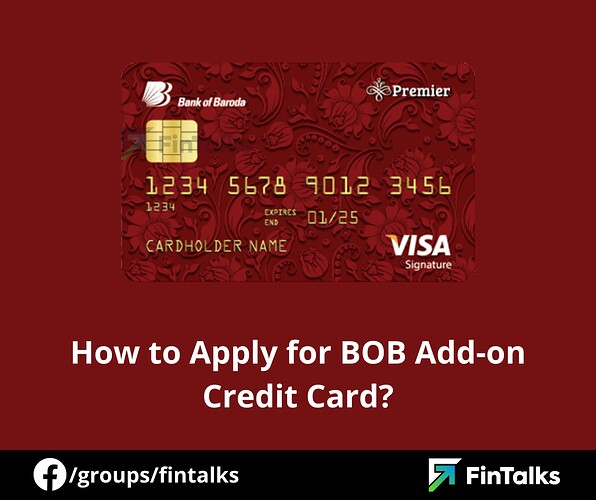 If you are holding an existing Bank of Baroda Credit Card then you can extend your card benefits to your family members at no extra cost. Check out this post to find out how to apply for BOB Addon Credit Card.
What is Add-on Credit Card?
An Add-on Card is a secondary card provided to your direct family members. It is of the same variant as the primary card and shares the same features as the primary card. I have already written a detailed post on What is Addon Credit Card, what are its benefits. Check it out: Add-on Credit Cards Explained: Features, Benefits, How to Apply?
Things to Remember:
You can apply up to 3 Add-on Cards per Primary BOB Credit Card.
The Addon Cards are issued as Lifetime Free. No charges involved.
Since MasterCard is banned at the time of writing this post, you can only apply for Addon Card if you have a VISA variant card.
The entire process is online and paperless.
How to Apply for BOB Addon Credit Card?
Log in to your BOB Credit Card Account.
Click on Requests > Add-on Card.
Enter the details asked: Name, DOB, Relationship with Primary Cardholder, PAN Number.
Make sure you keep the following things handy: Addon Cardholder Photo, PAN, Aadhaar or any other address proof. You need to upload them on the portal itself.
Submit it.
You will get your BOB Add-on Credit Card within 7 days.
Thank you for reading. Don't forget to join our FinTalks Facebook Group & FinTalks Telegram Channel for regular updates on banking and finance.